About RM COCO Fabrics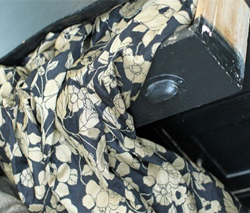 A Passion for Design. A Commitment of Excellence.

The mission of RM COCO is to bring together collections of exquisite fabric, exclusive trim and beautiful finials, rods and accessories, arrange them for easy selection and then provide a helpful and knowledgeable customer service team to take orders and assure shipment within 24 hours.
The owners of RM COCO, including myself, travel the world to select a broad, unique product line. This process involves countless hours of trend analyzing, market research and negotiation. Each new collection that is released is comprised of the best fabrics or trim, based on an overall artistic, design appeal.

 
All collections include patterns exclusive  to RM COCO.

Our all-exclusive trim collections are unique to RM COCO. With tassels, tie backs, cording and other styles available, the right trim can make a good design, a great design.
Other brands available through RM COCO include The Finial Company, Paris Texas Hardware, Steven Fabrics & Kirsch Fabrics.

Our commitment to our customers is to provide personal touch service from initial contact with our sales representatives to placement of an order with our customer service team. Throughout the entire process, be assured RM COCO is committed to making any design a success.
---
---